No result found for your search.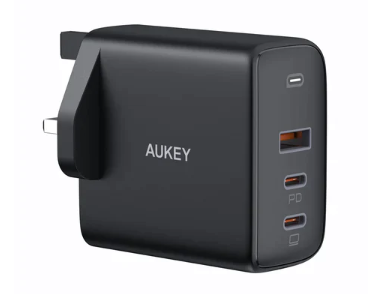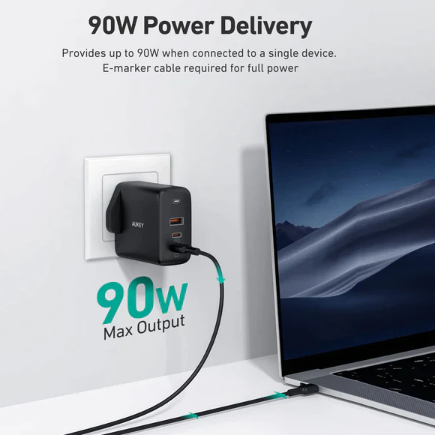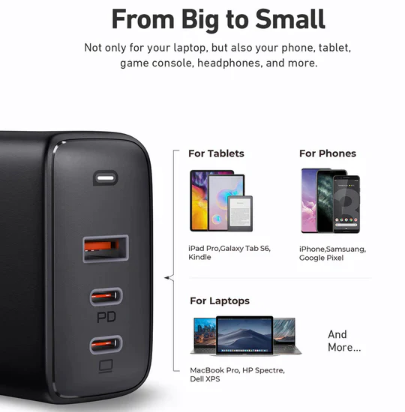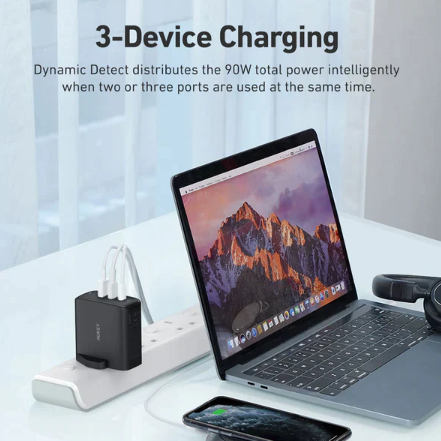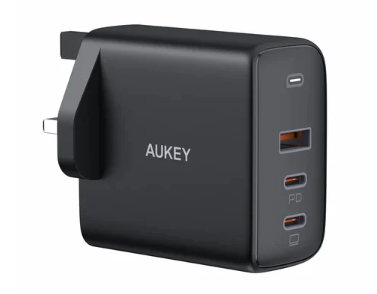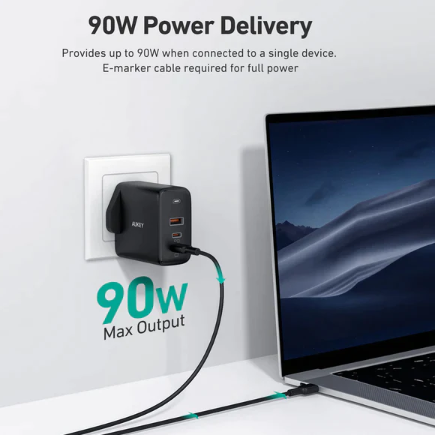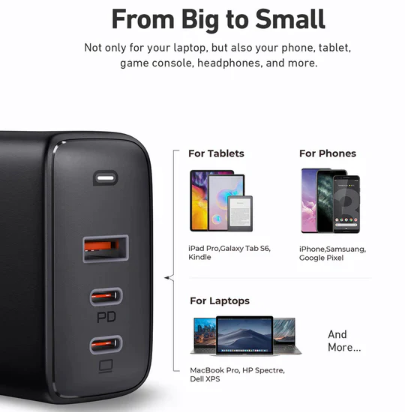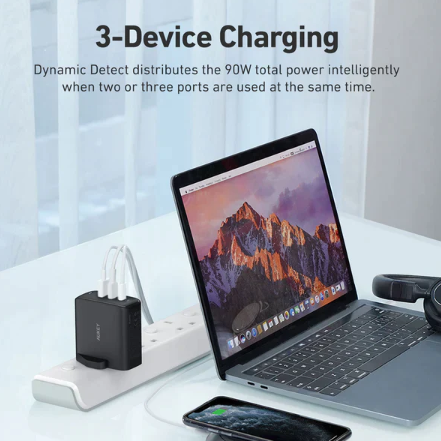 Aukey
Aukey 3-Port 90W PD Wall Charger with GaN Power Tech
Available:
Only 6 items in stock
6 items in stock
In stock
Out of stock
Back in stock
AUKEY PA-B6S Omnia 90W 3-Port MacBook Pro Charger with GaN Fast Technology, PD Charger USB C Fast Charger USB C Laptop Charger
Highlight
High-Speed Charging: Offers 90W Power Delivery 3.0 charging from a single USB-C port to charge your MacBook Pro at full speed and fast-charge your latest iPhone or other compatible USB-C powered devices that support USB Power Delivery. Charges your Samsung Galaxy Note20 Ultra / S20+ at 45W via USB A Port.r
Compact & Efficient: 20% smaller than Apple's 87W charger despite 3x the ports, and 40% less energy waste. Ideal for 15' MacBook Pro and other high-powered USB-C laptops. Foldable plug & travel-friendly design ensure maximum portability wherever you go. Handy for home, office, and vacations
Broad Compatibility: Works with most USB-C laptops and PD devices including MacBook Pro 16", MacBook Air, iPhone 11 / 11 Pro / 11 Pro Max / SE, Samsung S20+ / NOTE 20+, Google Pixel 4 / 3 XL, LG G7 / V50, AirPods Pro, Switch, iPad Pro 2020, iPad Air 2020, iPad mini 2020, Airpods Pro and more. (When you plug in or plug out the second device, dynamic detect system will redistribute the current, which will cause a quick reconnection )
Three-Device Charging: Enough power to charge one MacBook 15.4'' laptop and one Switch simultaneously. When using all 3 ports together, the main USB-C port provides up to 60W, while the other ports provide up to 12W. (If the temperature control system detects internal components are too hot, it will automatically limit output from (60W+30W) to (45W+30W) until components cool down. )
Details
Dynamic Detect
When a single device is connected to more than one port, this AUKEY USB PD charger with Dynamic Detect provides access to the full power of the charger. For more than one device, Dynamic Detect ensures effective simultaneous charging by intelligently distributing the power.
Advanced Omnia GaN Power Technology
Experience a GaNFast charging revolution with AUKEY's Omnia GaN (gallium nitride) power chip developed in partnership with Navitas Semiconductor. GaN operates up to 100x faster than old, slow silicon (Si) semiconductors, delivering 3x faster charging in half the size.
Smaller and Better
20% smaller and lighter than Apple's 87W USB-C charger but with 3 times the ports.
Safe and Reliable
Advanced circuitry and built-in safeguards protect your devices against excessive current, overheating, and overcharging.
Compatible Models
USB-C devices below 90W and USB-A devices below 60W (including but not limited to):
-Laptops: MacBook Pro 15 / MacBook Pro 13 2019(A2159) / MacBook Pro 13 2018(A1989) / MacBook Pro 13 2017(A1708) / MacBook Pro 13 2016(MLL42) / MacBook Pro 15 2016(A1707) / MacBook Air 13 2018(A1932) / MacBook Pro 12 2017(A1534); ThinkPad S3-490 14 / Lenovo Yoga C930 13.9 / ThinkPad X270 / ThinkPad New S2 13.3 / ThinkPad T470; Razer Blade Stealth 17; HP ZBOOK StudioG5 15.6 / HP EliteBook Folio G1 12.5 / HP Spectre-13-af001 / HP Spectre x360-13-w021tu; Google Pixelbook; Asus T303UA 12.6; SAMSUNG Chromebook Plus(XE513C24); Dell XPS 13 2 in 1(9365) / Dell XPS 13 9370 / Dell XPS 15 9560 / Dell Latitude 5480;
-Phones: iPhone 12 / 12 Pro / 12 Pro Max / 12 Mini / iPhone 11 / 11 Pro / 11 Pro Max / iPhone SE / XS / XS Max / XR / X / iPhone 8 / 8 Plus; XIAOMI MI 10 Pro/ 9 / MI 8 / MI 8 SE / MIX 3 / MIS 2S / MIX2; Samsung Galaxy S10 / S10e / S9+ / S9 / S8 / S8+ / S7 / Note 9 / Note 8; HUAWEI Mate30 Pro / P30 Pro / Mate 20X / Mate 20 Pro / mate 10 / P10 / Mate 9; LG G7 / G6 / G5 / V30 / V20 / V10; Google Pixel / Pixel 3XL / 3 / 2XL / 2, Nexus 5X / 6P; Sony XZ3 Premium / XZ2 / XZP;
-Tablets: iPad Pro 12.9-inch 4th / 3rd / 2nd / 1st generation; iPad Pro 11-inch 2nd / 1st generation; iPad Pro 10.5-inch; iPad Air 4th / 3rd generation; iPad 8th / 7th generation; iPad mini 5th generation; Samsung Tab A / 4 / S6 / S5 / S5e / S4 / S3; Lenovo Tab M10 / P10 / M8 / V7 / E10 / E7; Google Pixel Slate 12.3''; Fire HD 10/ Fire HD 8/ Fire 7; Kindle;
-Others: Air Pods; Switch; Wireless Earbuds and more.
Note
Notes
- Compatible for Super Fast Charge Samsung Galaxy S22 Ultra by charging individually (Using Only 1 USB C port), Charging Multiple-Device in the same time will cause Samsung Galaxy S22 reduce to normal charging.
- Cable not included.
- E-marker cable required for full power.
- Fast charges iPhone 12 / 11 / SE / XS / XR / X / 8 series when using the original Apple USB-C to Lightning cable.
If the temperature control system detects internal components are too hot, it will automatically limit output from (60W+30W) to (45W+30W) until components cool down.